About Us
Wah Ying House is a Chinese takeaway in Somerset. Why don't you try our Chicken & Honey Chilli Sauce or Prawn Crackers?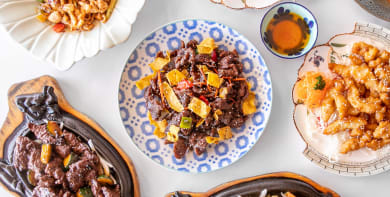 Reviews
437 reviews
Phil
"Excellent, beautifully cooked food, piping hot, and good portion sizes, delivery service was prompt and polite."
28/11/2020
Mr
"Very good food fast delivery will be using them from now on for my Chinese takeaway 👍"
24/11/2020
Haitian
"Second time been here and the food is still great"
22/11/2020
Haitian
"Perfect food fast delivery five stars"
20/11/2020
Menu
Chinese Roast Pork on Bean Sprouts
£5.50
King Prawn on Bean Sprouts
£6.10
Chicken & Chinese Roast Pork on Bean Sprouts
£5.50
Breast Chicken on Bean Sprouts
£5.50
Mixed Vegetables & Cashew Nuts
Vegetarian Meal
£5.10
Chinese Roast Pork & Cashew Nuts
£5.50
Chinese Roast Pork & Mushroom
£5.50
Beef & Chicken with Mushroom
£5.50
Wah Ying Special Mushroom
£6.10
Wah Ying Special Crispy Noodles
£6.20
Beef & Green Pepper with Crispy Noodles
£6.10
Beef & Mixed Vegetables with Crispy Noodles
£6.10
Beef & Mushroom with Crispy Noodles
£6.10
Chicken & Mixed Vegetables with Crispy Noodles
£6.10
Chicken & Mushroom with Crispy Noodles
£6.10
Chicken & Green Pepper with Crispy Noodles
£6.10
King Prawn Omelette with Chips
£6.10
Chinese Roast Pork Omelette with Chips
£5.60
Chicken Omelette with Chips
£5.60
Special Omelette with Chips
£6.10
Prawn Omelette with Chips
£5.80
Mushroom Omelette with Chips
£5.50
Onion Omelette with Chips
£5.30
Plain Omelette with Chips
£5.30
Mixed Vegetables Szechuan
Hot
£5.10
Chinese Roast Pork Szechuan
Hot
£5.60
King Prawn in Yellow Bean Sauce
£6.10
House Special in Yellow Bean Sauce
£6.10
Chinese Roast Pork in Yellow Bean Sauce
£5.60
Chicken in Yellow Bean Sauce
£5.60
Beef in Yellow Bean Sauce
£5.60
Chinese Roast Pork Foo Yung
£5.50
Wah Ying Special Foo Yung
£6.10
Set Meal A1 For 1 Person
Sweet & sour pork balls
Chicken chop suey
Egg fried rice (1)
£10.50
Set Meal A2 For 2 Persons
Sweet & sour chicken balls
Chicken chop suey
Spare ribs of pork with barbecue sauce
Yeung chow fried rice (2)
£20.00
Set Meal B For 3 Persons
Quarter crispy aromatic duck
with spring onions, cucumber, plum sauce & pancakes
King prawns with mushrooms
Sweet & sour chicken (Hong Kong style)
Beef slices with ginger & spring onions
Pancake rolls (3)
Yeung chow fried rice (small) (3)
Prawn crackers
£37.00
Mushroom in Gravy
Vegetarian Meal
£4.30
Bamboo Shoots
Vegetarian Meal
£4.30
Fried Bean Sprouts
Vegetarian Meal
£4.30
Fried Mixed Vegetables
Vegetarian Meal
£4.30
Fried Onions
Vegetarian Meal
£4.30
Bean Curd with Green Pepper & Black Bean Sauce
£5.60
Satay Bean Curd
With peanut sauce
£5.60
Bean Curd in Oyster Sauce
£5.60
Vegetarian Chicken
Style dish with seasonal vegetables
£5.80
Vegetarian Duck
Style dish with seasonal vegetables
£5.80
Thai Set Menu A
Starters:
Thai style vegetable spring rolls
Succulent ribs of pork in spicy sauce
Satay chicken on skewers
Main Course:
Thailand's famous hot green curry (with chicken & coconut milk)
Sweet & sour pork Thia style (with pineapple)
Stir fried beef (with oyster sauce Thai style)
Thai egg fried rice (coconut milk)
Sweet:
Banana fritter
£28.00
Thai Set Menu B
Starters:
Chicken skewers grilled (with peanut sauce)
Sesame prawn toast
Spare ribs
Main Course:
Roast duck curry (with coconut milk & pineapple)
Thai style chicken (with cashew nuts & dry chillies)
Beef stir fried with lemon grass & chilli
Thai egg fried rice (coconut milk)
Sweet:
Banana fritter
£30.00
Roast Duck Satay
Hot
Contains nuts
£6.50
Roast Duck with Bean Sprouts
£6.30
Roast Duck with Ginger & Spring Onions
£6.30
Roast Duck with Green Pepper & Black Bean Sauce
£6.30
Roast Duck with Lemon Sauce
£6.30
Roast Duck with Mixed Vegetables
£6.30
Roast Duck with Mushrooms
£6.30
Roast Duck with Orange Sauce
£6.30
Roast Duck with Pineapple
£6.30
Roast Duck with Plum Sauce
£6.50
Crispy Aromatic Duck Half
Served with cucumber, spring onions, pancakes & hoisin sauce
£16.50
Crispy Aromatic Duck Quarter
Served with cucumber, spring onions, pancakes & hoisin sauce
£8.90
Crispy Aromatic Duck Whole
Served with cucumber, spring onions, pancakes & hoisin sauce
£29.00
Grilled Chicken Peking Style
With garlic, rice wine sauce & ginger
£5.50
Fried Crispy Shredded Chicken
Hot
£5.50
Chicken in Mixed Vegetables
£5.50
Chicken with Ginger & Spring Onions
£5.50
Chicken with Green Pepper & Black Bean Sauce
£5.50
Chicken with Orange Sauce
£5.50
Beef with Ginger & Spring Onions
£5.50
Beef with Green Pepper & Black Bean Sauce
£5.50
Fried Crispy Shredded Beef
Hot
£5.50
Chinese Roast Pork Chop Suey
£5.50
Mushroom Chop Suey
Vegetarian Meal
£5.00
Wah Ying Special Chop Suey
£6.00
Thai Curry Breast Chicken
Hot
£5.80
Thai Curry Chinese Roast Pork
Hot
£5.80
Thai Curry King Prawn
Hot
£6.10
Thai Curry Mixed Vegetables
Hot
£5.30
Thai Style Slices of Crispy Duck Stir Fried
With cashew nuts & dry chilli
£6.40
Beef Cooked in Rich Thick Curry Sauce
With coconut milk & lime leaves
£5.80
Chips with Barbecue Sauce
£3.30
Chips with Peppercorn Salt & Chilli
£3.80
Singapore Rice Noodles
Hot
£5.90
Soft Noodles & Bean Sprouts
Vegetarian Meal
£4.20
Wah Ying Special Chow Mein
£5.90
Vegetables Chow Mein
Vegetarian Meal
£5.30
Pad Thai
Stir fried Thai noodles
Hot
£6.10
Mushroom Chow Mein
Vegetarian Meal
£5.30
Chinese Roast Pork Chow Mein
£5.50
Fried Soft Noodles
Vegetarian Meal
£4.00
Udon Noodles
Chicken or beef
£5.80
Grilled King Prawn Peking Style
With garlic, rice wine sauce & ginger
£6.10
King Prawn with Ginger & Spring Onions
£6.10
King Prawn with Green Pepper & Black Bean Sauce
£6.10
King Prawn & Bamboo Shoots
£6.10
Chinese Roast Pork & Bamboo Shoots
£5.50
King Prawn with Peppercorn Salt & Chilli
Hot
£6.10
Lamb with Ginger & Spring Onions
£6.10
Crispy Lamb with Spiced Garlic Sauce
£7.00
Crispy Shredded Chicken Szechuan Style
Dry
Hot
£5.90
Crispy Aromatic Lamb
Served with cucumber, spring onion, pancake & Hoisin sauce
£9.30
Chicken Wings in Peppercorn Salt & Chilli
Hot
£5.60
Chicken with Peppercorn Salt & Chilli
Hot
£5.80
Baked Squid with Peppercorn Salt & Chilli
Hot
£5.90
Beef & Chicken Fried Rice
£5.60
Chicken Fried Rice with Pineapple
£5.70
Roast Pork & Chicken Fried Rice
£5.60
Wah Ying Special Fried Rice
£5.90
Sliced Chicken Fried Rice
£5.60
Thai Fried Rice
With coconut milk
£3.20
Roast Pork & Honey Chilli Sauce
£5.60
Wah Ying Special Honey Chilli Sauce
£6.10
Chicken & Honey Chilli Sauce
£5.60
King Prawn & Honey Chilli Sauce
£6.10
Crispy Beef & Honey Chilli Sauce
£5.60
Wah Ying Special Satay
Hot
Contains nuts
£6.10
Prawn Satay
Hot
Contains nuts
£5.50
Mixed Vegetable Satay
Vegetarian Meal
Hot
Contains nuts
£5.00
King Prawn Satay
Hot
Contains nuts
£6.10
Chinese Roast Pork Satay
Hot
Contains nuts
£5.50
Chicken Satay
Hot
Contains nuts
£5.50
Beef Satay
Hot
Contains nuts
£5.50
Cantonese Sweet & Sour Chicken
£5.50
Cantonese Sweet & Sour King Prawn
£6.10
Cantonese Sweet & Sour Pork
£5.50
Cantonese Sweet & Sour Vegetables
Vegetarian Meal
£4.60
Sweet & Sour Special Balls
King prawns, chicken & pork
£6.00
Sweet & Sour Chicken Balls
£5.50
Sweet & Sour King Prawn Balls
£6.10
Satay Chicken on Skewers
Hot
£5.50
Mashed Prawn on Toast with Sesame Seed
£5.00
Mini Spring Rolls (10)
Vegetarian Meal
£3.10
Mixed Hot Appetisers
Spare ribs, sesame prawn toast, mini spring rolls, chicken wings, satay & seaweed
£9.50
Barbecued Spiced Spare Ribs
£5.90
Spare Ribs with Barbecue Sauce
£5.90
Spare Ribs with Beijing Sauce
£5.90
Spare Ribs with Peppercorn Salt & Chilli
£5.90
Succulent Ribs of Pork in Spicy Sauce
Hot
£5.90
Curried Breast Chicken
Hot
£6.80
Curried Chopped Chicken
Hot
£6.60
Curried Mixed Vegetables
Vegetarian Meal
Hot
£6.30
Curried Mushrooms
Vegetarian Meal
Hot
£6.30
Chinese Roast Pork Curried
Hot
£6.60
Contact Us
Find Us
113 Middle Street, Somerset, BA201NA
We deliver to
BA20, BA21, BA22, DT9