About Us
Wah Ying House is a Chinese takeaway in Somerset. Why don't you try our Chicken & Honey Chilli Sauce or Prawn Crackers?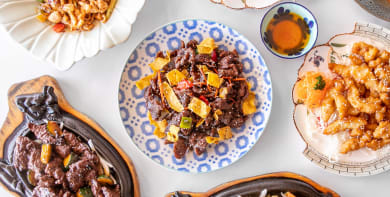 Reviews
427 reviews
Elaine
"We were fully informed about the short delay and it caused no problems. Food was great, hot and delicious. Plentiful servings. Will definitely use this service again."
04/05/2021
krustydave
"Very good again."
01/05/2021
Laura
"We always order from Wah Ying House, the food always tastes great and hot when arrives. It is always on time or early. We don't go anywhere else."
30/04/2021
trudy
"Food arrived piping hot and absolutely delicious"
25/04/2021
Menu
Chinese Roast Pork on Bean Sprouts
£5.50
King Prawn on Bean Sprouts
£6.10
Chicken & Chinese Roast Pork on Bean Sprouts
£5.50
Breast Chicken on Bean Sprouts
£5.50
Mixed Vegetables & Cashew Nuts
Vegetarian Meal
£5.10
Chinese Roast Pork & Cashew Nuts
£5.50
Chinese Roast Pork & Mushroom
£5.50
Beef & Chicken with Mushroom
£5.50
Wah Ying Special Mushroom
£6.10
Wah Ying Special Crispy Noodles
£6.20
Beef & Green Pepper with Crispy Noodles
£6.10
Beef & Mixed Vegetables with Crispy Noodles
£6.10
Beef & Mushroom with Crispy Noodles
£6.10
Chicken & Mixed Vegetables with Crispy Noodles
£6.10
Chicken & Mushroom with Crispy Noodles
£6.10
Chicken & Green Pepper with Crispy Noodles
£6.10
King Prawn Omelette with Chips
£6.10
Chinese Roast Pork Omelette with Chips
£5.60
Chicken Omelette with Chips
£5.60
Special Omelette with Chips
£6.10
Prawn Omelette with Chips
£5.80
Mushroom Omelette with Chips
£5.50
Onion Omelette with Chips
£5.30
Plain Omelette with Chips
£5.30
Mixed Vegetables Szechuan
Hot
£5.10
Chinese Roast Pork Szechuan
Hot
£5.60
King Prawn in Yellow Bean Sauce
£6.10
House Special in Yellow Bean Sauce
£6.10
Chinese Roast Pork in Yellow Bean Sauce
£5.60
Chicken in Yellow Bean Sauce
£5.60
Beef in Yellow Bean Sauce
£5.60
Chinese Roast Pork Foo Yung
£5.50
Wah Ying Special Foo Yung
£6.10
Set Meal A1 For 1 Person
Sweet & sour pork balls
Chicken chop suey
Egg fried rice (1)
£10.50
Set Meal A2 For 2 Persons
Sweet & sour chicken balls
Chicken chop suey
Spare ribs of pork with barbecue sauce
Yeung chow fried rice (2)
£20.00
Set Meal B For 3 Persons
Quarter crispy aromatic duck
with spring onions, cucumber, plum sauce & pancakes
King prawns with mushrooms
Sweet & sour chicken (Hong Kong style)
Beef slices with ginger & spring onions
Pancake rolls (3)
Yeung chow fried rice (small) (3)
Prawn crackers
£37.00
Mushroom in Gravy
Vegetarian Meal
£4.30
Bamboo Shoots
Vegetarian Meal
£4.30
Fried Bean Sprouts
Vegetarian Meal
£4.30
Fried Mixed Vegetables
Vegetarian Meal
£4.30
Fried Onions
Vegetarian Meal
£4.30
Bean Curd with Green Pepper & Black Bean Sauce
£5.60
Satay Bean Curd
With peanut sauce
£5.60
Bean Curd in Oyster Sauce
£5.60
Vegetarian Chicken
Style dish with seasonal vegetables
£5.80
Vegetarian Duck
Style dish with seasonal vegetables
£5.80
Thai Set Menu A
Starters:
Thai style vegetable spring rolls
Succulent ribs of pork in spicy sauce
Satay chicken on skewers
Main Course:
Thailand's famous hot green curry (with chicken & coconut milk)
Sweet & sour pork Thia style (with pineapple)
Stir fried beef (with oyster sauce Thai style)
Thai egg fried rice (coconut milk)
Sweet:
Banana fritter
£28.00
Thai Set Menu B
Starters:
Chicken skewers grilled (with peanut sauce)
Sesame prawn toast
Spare ribs
Main Course:
Roast duck curry (with coconut milk & pineapple)
Thai style chicken (with cashew nuts & dry chillies)
Beef stir fried with lemon grass & chilli
Thai egg fried rice (coconut milk)
Sweet:
Banana fritter
£30.00
Roast Duck Satay
Hot
Contains nuts
£6.50
Roast Duck with Bean Sprouts
£6.30
Roast Duck with Ginger & Spring Onions
£6.30
Roast Duck with Green Pepper & Black Bean Sauce
£6.30
Roast Duck with Lemon Sauce
£6.30
Roast Duck with Mixed Vegetables
£6.30
Roast Duck with Mushrooms
£6.30
Roast Duck with Orange Sauce
£6.30
Roast Duck with Pineapple
£6.30
Roast Duck with Plum Sauce
£6.50
Crispy Aromatic Duck Half
Served with cucumber, spring onions, pancakes & hoisin sauce
£16.50
Crispy Aromatic Duck Quarter
Served with cucumber, spring onions, pancakes & hoisin sauce
£8.90
Crispy Aromatic Duck Whole
Served with cucumber, spring onions, pancakes & hoisin sauce
£29.00
Grilled Chicken Peking Style
With garlic, rice wine sauce & ginger
£5.50
Fried Crispy Shredded Chicken
Hot
£5.50
Chicken in Mixed Vegetables
£5.50
Chicken with Ginger & Spring Onions
£5.50
Chicken with Green Pepper & Black Bean Sauce
£5.50
Chicken with Orange Sauce
£5.50
Beef with Ginger & Spring Onions
£5.50
Beef with Green Pepper & Black Bean Sauce
£5.50
Fried Crispy Shredded Beef
Hot
£5.50
Chinese Roast Pork Chop Suey
£5.50
Mushroom Chop Suey
Vegetarian Meal
£5.00
Wah Ying Special Chop Suey
£6.00
Thai Curry Breast Chicken
Hot
£5.80
Thai Curry Chinese Roast Pork
Hot
£5.80
Thai Curry King Prawn
Hot
£6.10
Thai Curry Mixed Vegetables
Hot
£5.30
Thai Style Slices of Crispy Duck Stir Fried
With cashew nuts & dry chilli
£6.40
Beef Cooked in Rich Thick Curry Sauce
With coconut milk & lime leaves
£5.80
Chips with Barbecue Sauce
£3.30
Chips with Peppercorn Salt & Chilli
£3.80
Singapore Rice Noodles
Hot
£5.90
Soft Noodles & Bean Sprouts
Vegetarian Meal
£4.20
Wah Ying Special Chow Mein
£5.90
Vegetables Chow Mein
Vegetarian Meal
£5.30
Pad Thai
Stir fried Thai noodles
Hot
£6.10
Mushroom Chow Mein
Vegetarian Meal
£5.30
Chinese Roast Pork Chow Mein
£5.50
Fried Soft Noodles
Vegetarian Meal
£4.00
Udon Noodles
Chicken or beef
£5.80
Grilled King Prawn Peking Style
With garlic, rice wine sauce & ginger
£6.10
King Prawn with Ginger & Spring Onions
£6.10
King Prawn with Green Pepper & Black Bean Sauce
£6.10
King Prawn & Bamboo Shoots
£6.10
Chinese Roast Pork & Bamboo Shoots
£5.50
King Prawn with Peppercorn Salt & Chilli
Hot
£6.10
Lamb with Ginger & Spring Onions
£6.10
Crispy Lamb with Spiced Garlic Sauce
£7.00
Crispy Shredded Chicken Szechuan Style
Dry
Hot
£5.90
Crispy Aromatic Lamb
Served with cucumber, spring onion, pancake & Hoisin sauce
£9.30
Chicken Wings in Peppercorn Salt & Chilli
Hot
£5.60
Chicken with Peppercorn Salt & Chilli
Hot
£5.80
Baked Squid with Peppercorn Salt & Chilli
Hot
£5.90
Beef & Chicken Fried Rice
£5.60
Chicken Fried Rice with Pineapple
£5.70
Roast Pork & Chicken Fried Rice
£5.60
Wah Ying Special Fried Rice
£5.90
Sliced Chicken Fried Rice
£5.60
Thai Fried Rice
With coconut milk
£3.20
Roast Pork & Honey Chilli Sauce
£5.60
Wah Ying Special Honey Chilli Sauce
£6.10
Chicken & Honey Chilli Sauce
£5.60
King Prawn & Honey Chilli Sauce
£6.10
Crispy Beef & Honey Chilli Sauce
£5.60
Wah Ying Special Satay
Hot
Contains nuts
£6.10
Prawn Satay
Hot
Contains nuts
£5.50
Mixed Vegetable Satay
Vegetarian Meal
Hot
Contains nuts
£5.00
King Prawn Satay
Hot
Contains nuts
£6.10
Chinese Roast Pork Satay
Hot
Contains nuts
£5.50
Chicken Satay
Hot
Contains nuts
£5.50
Beef Satay
Hot
Contains nuts
£5.50
Cantonese Sweet & Sour Chicken
£5.50
Cantonese Sweet & Sour King Prawn
£6.10
Cantonese Sweet & Sour Pork
£5.50
Cantonese Sweet & Sour Vegetables
Vegetarian Meal
£4.60
Sweet & Sour Special Balls
King prawns, chicken & pork
£6.00
Sweet & Sour Chicken Balls
£5.50
Sweet & Sour King Prawn Balls
£6.10
Satay Chicken on Skewers
Hot
£5.50
Mashed Prawn on Toast with Sesame Seed
£5.00
Mini Spring Rolls (10)
Vegetarian Meal
£3.10
Mixed Hot Appetisers
Spare ribs, sesame prawn toast, mini spring rolls, chicken wings, satay & seaweed
£9.50
Barbecued Spiced Spare Ribs
£5.90
Spare Ribs with Barbecue Sauce
£5.90
Spare Ribs with Beijing Sauce
£5.90
Spare Ribs with Peppercorn Salt & Chilli
£5.90
Succulent Ribs of Pork in Spicy Sauce
Hot
£5.90
Curried Breast Chicken
Hot
£6.80
Curried Chopped Chicken
Hot
£6.60
Curried Mixed Vegetables
Vegetarian Meal
Hot
£6.30
Curried Mushrooms
Vegetarian Meal
Hot
£6.30
Chinese Roast Pork Curried
Hot
£6.60
Contact Us
Find Us
113 Middle Street, Somerset, BA201NA
We deliver to
BA20, BA21, BA22, DT9